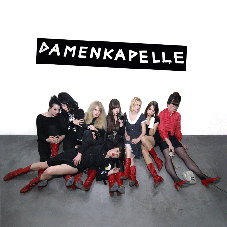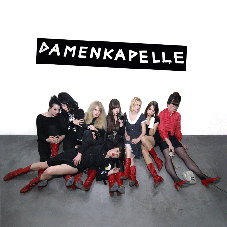 DAMENKAPELLE LP
€15.00 / On Sale
DAMENKAPELLE (aus München)
✭✌✭✌✭✌✭✌✭✌✭✌✭✌✭✌✭✌✭✌✭✌✭✌✭✌✭✌✭
Debut Album, 13 Songs, Echokammer
To give structure chaos" is the motto of this Munich based all-girl band. Staying true to this concept Spandex, Eat it, Sandra, Peitschenfrau, St.Anger, Fräulein Milano, Antenne Danger and their secretary Fräulein Jablonski have already performed in the Munich Kammerspiele theatre, Hamburg Pudel Club, Glasgow Glue Factory and Berlin's Kaffee Burger as well as in an old people's home.
Reckless dilettantism, daring outfits, a slight obsession with warpaint and an eclectic array of dirty rock 'n' roll jubilees capture the audience's imagination and usually lead to moshing and doing the twist at the very same time.
Their songs are built up like real mini pop-dramas telling stories of butchers that "might catch daughter's son", daddy long legs and "cobwebs in your mouth yawnin'", "dance slow motion rink dances" in the dead rollerdisco, voices in your head telling of "restless wonders in rapid succession" and of hate - is it really "like a leather feather"?
A mash of twisted country stompers, post-punk screaming darkness, sixties garage medleys and disco dreamers combine to a surprisingly cohesive amalgam of old and new wrapped up in truly good songs.
The recordings are classic garage band style, as in REAL garage band. You can hear the energy, no cuts, laughter and screams left in for effect, played from beginning to end and so be it. These girls are definitely having a good time. When you listen to this record you just want to sing a long full-belt and move your feet to the voodoo beat.
Watch out for these girls! Watch out for this record! It will bite you with all its might right in the middle of your bottom!
A fan once put his finger on it when he described DAMENKAPELLE with these succinct words: "motopsychovixensmondoblacksnakewitchescountrypunkelectrorockin'rollmarchingpolkaglamo urousgranades" - Hektar Hartmann
"Overall I like this band and record very much, it would be a good record to listen to at night with the light off to make yourself scared because it has a very scary sound and lots of songs about frightening things. I would give this record 10 on 10" - Peter Kemp
Their debut album is released 17th February 2012 on ECHOKAMMER
(also of die Goldenen Zitronen, Kamerakino, Dizzy Errol, Hans Platzgumer and Parasyte Woman).
note: The record was initially released in May 2011 but had to be shortly thereafter pulled back due to legal problems with another band from Berlin with a similar name...
Credits:
Recorded by Albert Pöschl at Echokammer, mastering by Michael Heilrath at Bereich03, Munich 2011.
All songs by DAMENKAPELLE except "Temporary Secretary" (McCartney)
and "Pudel" (orig. title "Nice" Schifferle/Hafner/Marti).
+++++++++++++++++++++
LINKS
http://soundcloud.com/damenkapelle
http://www.youtube.com/user/DAMENKAPELLE
http://www.facebook.com/pages/DAMENKAPELLE/136729598093
http://www.echokammer.de/
REVIEW by Peter Kemp: http://peterkempsrecordreviews.blogspot.com/2011/06/damenkapelle-damenkapelle.html
☹